When I read a friend's post about top 20 lifetime travel goals, and noticed that there wasn't a single Italian location in her list, the Italian chauvinist in me just could not resist contacting her. Although Emily explained that Italy actually was on her list, but that it had already been crossed off because she's been in Italy already, the damage had already been done: to convince her, I created a short list with reasons why Italy should be on everybody's Top Lifetime Travel Goals list.
To be honest, I didn't even create the list myself. UNESCO, the specialized agency of the United Nations, who maintains the list with World Heritage Sites, created a shortlist for me, and I simply picked four winners:
1. The Archaeological Areas of Pompeii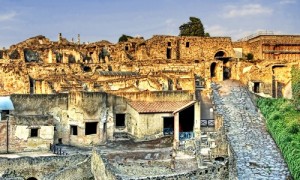 On August 24th AD79, on the day after Vulcanalia, the festival of the Roman god of fire, the Italian volcano Vesuvius erupted. The northern wind caused the flourishing Roman towns of Pompeii and Herculaneum to get covered with a thick layer of rocks, lava and volcanic ash. If the wind had blown to the east, Naples would probably have been buried instead. Thankfully it wasn't and we were able to use a car service from Naples to reach this mazing sight.
The region has been progressively excavated and made accessible to the public since the mid of the 18th century. Attracting almost 2.6 million visitors per year, Pompeii is one of the most popular tourist sites in Italy. However, the nearby villages of Herculaneum and Stabiae, where you can find similar ruins, are far less touristic.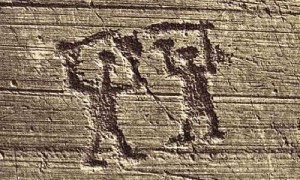 2. Rock drawings in Val Camonica
Val Camonica, a valley in the Italian Alps in the region of Lombardy, has one of the world's greatest collections of prehistoric petroglyphs. It's estimated that the rocks in this region contain between 140,000 and 200,000 drawings and engravings. The Cammuni, who lived in Val Camonica thousands of years ago, started making the incisions around 11,000 years ago and kept doing this for about 8,000 years.
Nowadays, you not only can see ancient art carved into the Italian rocks, but you can also read about historic events, such as the introduction of the wheel, in the mountains around Val Camonica as well.
3. The Trulli of Alberobello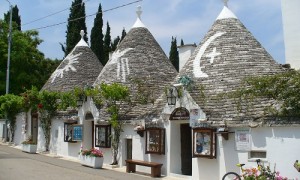 Puglia, a region in the southeast of Italy, is well known for its typical masserias. These buildings were used as residences during the summer months by land owners and their employees. Nowadays, lots of these masserias have been restored and are being used as museum, guesthouses or as masseria hotels.
Puglia is also known for its beautiful traditional trulli, stone dwellings with a conical roof. You can find over a thousand trulli in the village of Alberobello, including a church in trullo-style, Chiesa di S. Antonio. Because trulli are now protected under the UNESCO world heritage law, restoring them (and using them as museum, guesthouse or hotel) is somewhat difficult. However, sleeping in a masserie at night, and visiting trulli during the day, is amazing too.
4. Cinque Terre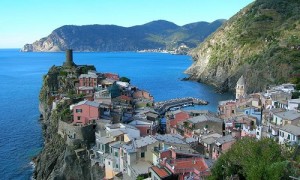 Cinque Terre is a rugged portion of coast on the Italian Riviera, in the Liguria region. Cinque Terre means "The Five Lands," and comprises five villages: Monterosso al Mare (known for its anchovies), Vernazza, Corniglia, Manarola, and Riomaggiore. The carefully built houses on steep cliffs create a beautiful Mediterranean picture.
Because it is very hard to reach (cars cannot reach it from the outside), people had to improvise when they constructed their buildings, with mainly simple, but colorful houses as a result. The area, which is located at about 15 km east of the city La Spezia, is great for hiking. The lack of visible modern development will give you the feeling that you're really "away".
Well, there you go. These were just four reasons to convince you to put an Italian destination on your to-do list. However, with over 40 other properties on UNESCO's World Heritage list, and many more other interesting places to go to, Italy even has much more to offer.